This year, I took part in Covenant House's annual Sleep Out to end youth homelessness.
Covenant House New Jersey is a nonprofit that helps transform and save the lives of homeless, runaway, and trafficked young people in New Jersey by offering housing and support services to young people who have suffered from abuse, neglect, abandonment, homelessness, and human trafficking so that these youth can get the support and services they need to build a good life for themselves.
Every year, Covenant House hosts a Sleep Out where members of the community raise money to help homeless youth secure stable housing, shelter, and employment. This year was my second time sleeping out with Covenant House, and it was a truly powerful experience.
Traditionally, Covenant House's Sleep Out happens in their parking lot. In a normal year, about 150 people in the Newark community bring a cardboard box to Covenant House's parking lot, and we all sleep out for the night to raise money for youth experiencing homelessness and raise awareness for the 4.2 million kids who are homeless in America. But because of COVID, this year we all slept out in our own backyards rather than coming together at Covenant House.
I found this year's Sleep Out was even more impactful, because it was more authentic. Young people sleeping on the streets don't have the luxury of sleeping together in one spot, surrounded by hundreds of other people who are having the same experience. The reality is, most homeless youth spend their nights alone and vulnerable. So sleeping alone in my backyard this year was a much tougher experience than sleeping out surrounded by 150 other people with security guards surrounding the parking lot.
I was alone. I was cold. I felt vulnerable, and I could see my family safe and warm inside the house while I slept alone outside. This experience was hard, but it was also more powerful because it was closer to what most homeless young people have to experience every day.
Now more than ever, it's important that we don't retreat—but we try to do more. Millions of people in America are experiencing homelessness today, and rather than retreating from them in the face of a global pandemic, it's our responsibility to lean in and do whatever we can to help one another and end homelessness in America.
My experience Sleeping Out this year taught me a lot. Here are my four biggest takeaways from Sleeping Out with the Covenant House this year:
1. We all have the ability to do more.
I believe that whether you donate your time, money, or resources, we all have the ability to give a little bit more right now. There are people and organizations in all of our communities that are hurting because of what's happening in the world today, and we each have the ability to help.
For me, Covenant House was the cause I knew I could give more to this year. For you, it might be a nonprofit you believe in, making the decision to only shop local and support small businesses this holiday season, or spending a little extra to get takeout from a local restaurant you know could use the support.
As hard as this year has been for everyone, finding time to give back is still important. Right now, my business is in the middle of Quarter 4. That means we are all hands on deck, all the time. But I won't let that distract me from helping make an impact in my community when I can.
Even if you don't have extra money or time to give back right now, there are still small things we can do in our everyday lives to make a difference. I realized that last week when I was taking a walk with Ben, our Senior Customer Success Rep. We were walking through Hoboken, on our way to grab coffee, when a man outside the coffee shop asked if I had any spare change.
We all have moments where someone approaches us on the street and we turn away. But after sleeping out at the Covenant House, I knew I couldn't turn away. All I can do is look right at them.
If I can help, I help. And if I can't, I'll tell them I can't. But I'm going to look them in the eyes, and treat them with respect and humanity either way. The next time you walk by a person experiencing homelessness, ask yourself: Am I extending as much courtesy to them as they are to me?
I think about how this same dynamic plays out in the workforce all the time, because I believe you can't just flip a switch and treat some people wonderfully while totally disregarding others. The manager who never dares to make eye contact with someone on the street is likely the same manager who walks by workers on the warehouse floor without saying hello or bothering to acknowledge them as a person. You either treat all people with basic dignity and respect, or you don't.
It's like we say in sports: You can't practice one way and then expect to play another way on gameday.
2. 10-15% of kids in Covenant House experienced human trafficking at some point.
This year, Covenant House shared a statistic that shocked me: 10-15% of kids who come to Covenant House every year have experienced human trafficking at some point before they came in. That reality totally shifted my perspective in the way I think about the people around me, our communities, our workforce, our young people, and our future.
People are experiencing higher rates of homelessness now—even before COVID, homelessness has already been trending upwards since 2016. The homelessness rate in America has grown by 22% over the past five years, according to the National Alliance to End Homelessness. And that is both sad and infuriating, because homelessness is curable. As the wealthiest country in world history, we have the ability to end homelessness. We have actively chosen not to. As a result of that decision, thousands of homeless youth have been victims of human trafficking.
This makes me think about how deciding not to solve a problem doesn't make it go away. It usually makes things worse. I slept out because nobody should have to sleep on the streets. It's a problem we as a society need to address now, or the problem will continue to get worse.
3. Explaining the sleepout to my 3-year-old daughter was the hardest part of my experience.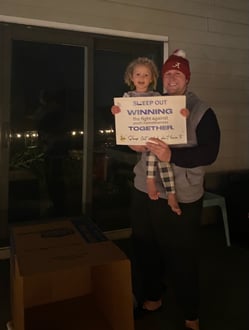 The morning after the sleep out, everyone who participated came together over a video call to reflect on our experiences.
We started talking about what the most difficult part of the night was, and I shared with the group that the hardest part about this experience for me wasn't sleeping outside in 30 degree weather on the pavement. It wasn't the fact that I never slept for more than five or 10 minutes a time. The hardest part of my experience happened when I was about to go outside for the night and my 3-year-old daughter Nico asked where I was going and why there was a cardboard box outside.
As a parent, I always try to explain things honestly to my daughter. She's only three, but we talk about the important stuff adult-to-adult. So I told her: There are a lot of kids who don't have homes or beds. So I'm sleeping out tonight to help raise money so that some of those kids will be able to buy a bed to sleep on. Watching the sadness on Nico's face as I explained this to her was really hard. As I talked with her, stringing together every word became increasingly difficult.
This was the moment that stuck with me most about my experience. And it brings me back to my last point: Homelessness is curable. When you explain something to a kid, and their reaction is: "This doesn't make sense. This is sad. This is wrong," we should listen.

4. "What do you do for the people you fall in love with? You do everything."
Jim White is the Executive Director of Covenant House New Jersey, and he has devoted his life to helping young people in crisis find a better future. Jim has been with Covenant House since 1982 and he is vigilant in the fight to help every young person that comes through Covenant House's doors.
When Jim was speaking to us about the young people he works with, he said: "This is what happens when you fall in love." For almost 40 years, Jim has been the person who meets these young people, talks with them, and sets them up with a bed. As that happens, you start to fall in love with every kid who walks through those doors.
"And what do you do for the people you fall in love with? You do everything." That's what Jim said to all of us at the Sleep Out.
So if you feel strongly about something—if you feel that love—then there is no boundary to fulfilling it and fighting for it.
When I think about what leaders do for their people, that's what I think of. If you love them, you do everything for them. You don't just do everything for some of them. As a leader, as a manager, as the head of a company, we should be doing everything we can to show our team that love and support every day.
If reading that has helped inspire you to give back and do more right now, you can donate to Covenant House New Jersey today. All of the money donated helps Covenant House provide comprehensive residential care and services to New Jersey's youth who have suffered from abuse, neglect, abandonment, homeless, and human trafficking so they can build a good life for themselves.
At 1Huddle, we are taking action in our community by donating over $1 million in platform and services to our community of nonprofits, associations, and critically important programs. We are also taking national legislative action by calling on Congress to provide more support for workers during the pandemic and asking Congress to support our RAISE Every Worker policy plan that fights for equal opportunity, access and respect for all workers. You can join the movement by signing onto our national letter to Congress today.