On Monday, Governor Phil Murphy signed legislation allowing for the early release of more than 3,000 incarcerated New Jerseyans as a way to ease the threat COVID-19 has presented to inmates in New Jersey's crowded correctional facilities.

To ensure that these returning citizens have the resources, job training, and support they need to successfully find a job and re-enter our community, 1Huddle has partnered with the New Jersey Reentry Corporation (NJRC). NJRC is a non-profit with the mission of removing all barriers to employment for citizens returning from jail or prison by providing returning citizens with individual assessments and treatment plans to address essential needs including housing, mental health care, and medical treatment.

All returning citizens will receive 1Huddle's customized platform with content on how to access resources like housing, Medicaid, SNAP (formerly known as food stamps), addiction treatment, mental health services, and other important resources for reentry. 1Huddle's platform has also been preloaded with more than 250+ company profiles that will help returning citizens learn about the companies they're interviewing for and land a job.

On Friday, October 16th 2020, 1Huddle and NJRC hosted a joint press conference detailing our partnership. We were joined by leaders in government, activists, formerly incarcerated New Jerseyans, and law enforcement officials who shared their perspective on how our partnership will improve the lives of returning citizens and uplift our communities.

In case you weren't able to tune into Friday's press conference, here are 10 of the most powerful quotes from our guests and speakers:
1. "I have no benefits. All I have is a prison ID they gave me that expires tomorrow. I can't go to work because I have no ID. I can't even go register to vote because I have no ID. Everybody says 'well you can go get an ID,' but you need an ID to get an ID."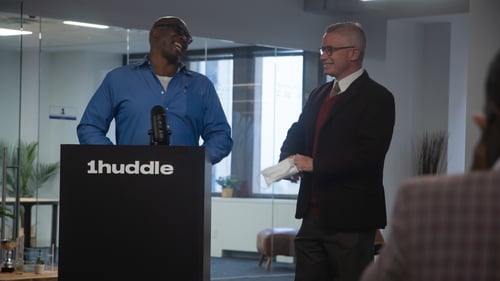 — Jessie Sharp, court-involved citizen who spent 35 years in the New Jersey State Prison System on the difficulty of reentering the community without having access to needed resources and assistance.
2. "It's on us as citizens to ensure that people are given a chance, and that's really what today's press conference is all about... Research has shown how investments in services like healthcare, housing, education and jobs can provide the stability needed to disrupt the cycle of incarceration. These investments reduce the likelihood that returning citizens will face unemployment and homelessness, while also significantly lowering taxpayer costs associated with rearrest and reincarceration. A very special thank you to Governor McGreevey and the team at 1Huddle for investing in the future of our returning citizens."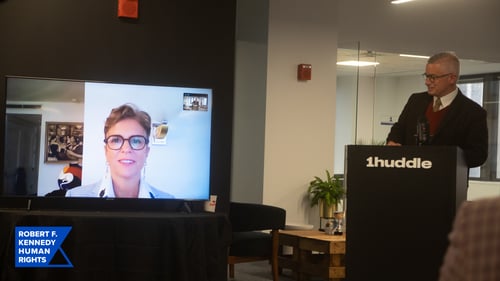 — Kerry Kennedy, President of the Robert F. Kennedy Human Rights Foundation
3. "This is a tool that's going to be used to make sure all returning citizens here in New Jersey are going to get the benefits that they're entitled to as quickly as possible. The app is supposed to be a support tool to make sure that once you've gotten access to benefits and services that New Jersey Reentry offers, we can then make sure that you have the best opportunity to succeed at your job."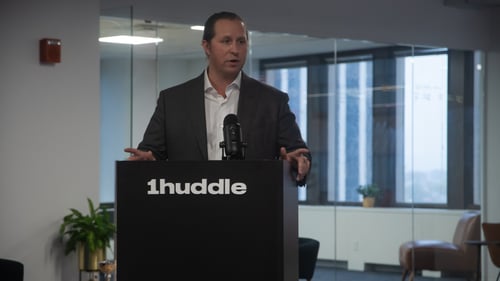 — Sam Caucci, CEO and Founder of 1Huddle
4. "The app is a technological device that links people to reentry, and in turn enables us to better serve our participants by linking them directly to food stamps, general assistance, temporary emergency housing, Medicaid, getting identification, and medication for those that are suffering from Opioid use disorder. There is a moral obligation to assist those coming home."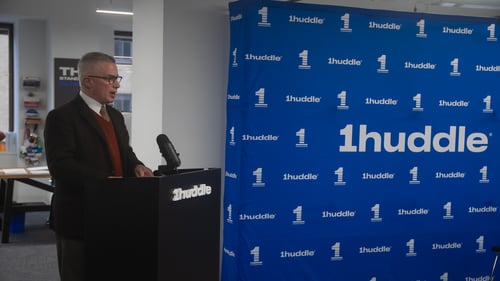 — Jim McGreevey, Former New Jersey Governor and Chairman of the NJRC Board

5. "We need to make sure every single New Jerseyan looking to enter or reenter our workforce gets a fair shake.. The work that Sam's doing — all these things that we're putting into the hands of folks who need it — is so important. Because we know that a job isn't simply a job: It's about dignity, it's about vitality, it's about value and self-worth."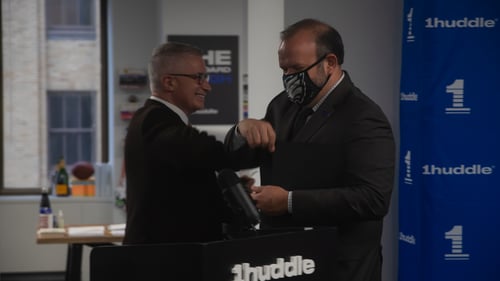 — Robert Asaro-Angelo, Labor Commissioner of New Jersey
6. "Navigating the first few months of reentry can be extremely overwhelming, which is why providing these citizens with the resources they need right in the palm of their hands is so critically important. With 1Huddle as the motor behind this operation, this app can impact the lives of thousands in the state of New Jersey."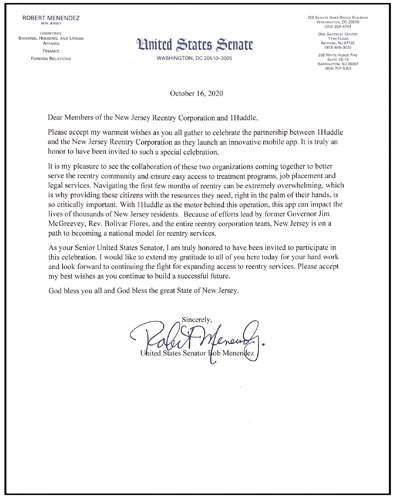 — U.S. Senator Robert Menendez (represented by Wendy Martinez)
7. "We can't simply release folks from something, but we must release them to something. What we are making possible in collaboration today is just that: Giving individuals something not just to be released from, but to be released to."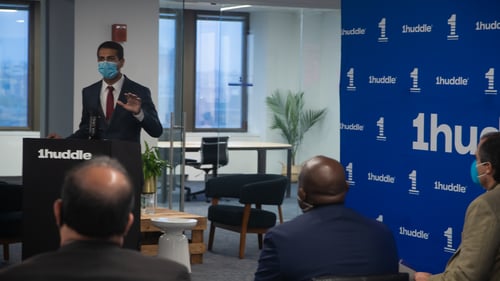 — Dr. Aakash Shah, NJRC's Medical Director

8. "I came from law enforcement. I did 25 years, and as you can imagine, I helped to incarcerate folks. During that time I became a social justice activist, and in thereafter I became an inmate advocate myself. Now I realize the importance of the reentry process, because I've seen it at three different levels. I think we've met the pinnacle, and I think the services that are being provided can only make things better for us."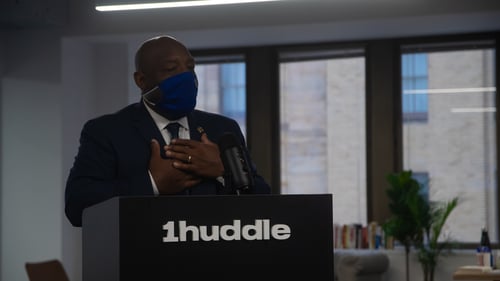 — Sheriff Anthony Cureton, Bergen County

9. "By embarking on this joint venture, NJRC and 1Huddle have helped expand accessibility to critical job readiness training programs for New Jersey Reentry Corporation members while also keeping them safe during this pandemic. New Jersey is on it's way to becoming a national model in reentry services."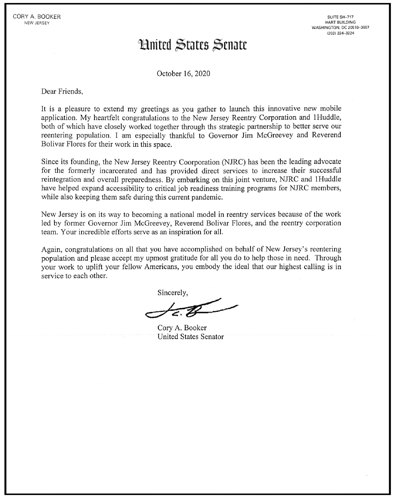 — U.S. Senator Cory Booker (represented by Jeran Crawford)
10. "I was behind the wall for 34 years. A lot of things have changed. I actually got lost in my own city. I came home and thought wow, it's definitely a change, especially when you're coming home to nothing...I'm just trying to show you all that I want my second chance, and I want to do it the legal way."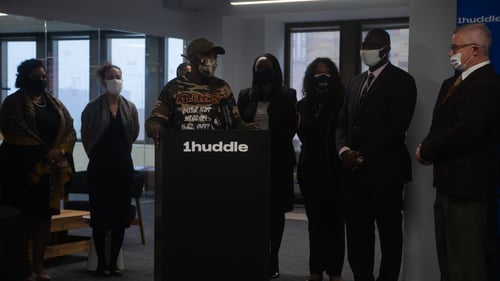 — Wali Lee, court-involved citizen who spent 34 years in the New Jersey State Prison System
These were just a few of the powerful messages our speakers shared at Friday's press conference.

If you want to learn more about 1Huddle's partnership with the New Jersey Reentry corporation, you can watch Friday's full press conference on YouTube and check out the press release about our partnership.

We look forward to our continued partnership with NJRC, and we believe that providing returning citizens with the tools they need for a seamless transition into our communities and the workforce is the best use of our technology.

To learn more about what 1Huddle is doing to raise all workers, including workers who have been court-involved, you can read our RAISE Every Worker policy plan and keep an eye out for our upcoming Social Responsibility page on the 1Huddle website.

In the meantime, if anyone wants to know what 1Huddle is doing for the community, our CEO Sam Caucci said it best: "Everything we can."